We Know Real Estate.
Request our complete guides, free! You'll receive top down picture of nearly everything you need to consider as a real estate buyer or seller in any market. Get more informed by requesting our guides below!
Learn more about
Top 10 things you need to know before selling your home, including tips for low cost improvements for a better selling price Discover how you know when it is right to make that repair, and knowing when and how to invest in your house A complete step by step breakdown of real world facts VS real estate reality TV shows, comparing and contrasting the differences The Seven Steps to Owning a Home, and how to maximize the success of your transaction every step of the way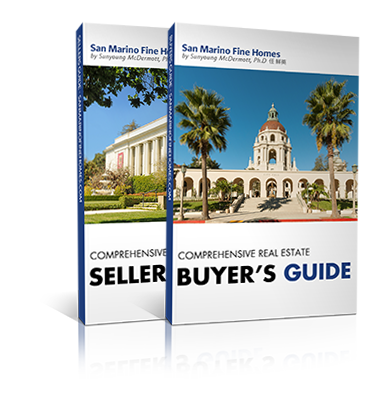 Download the guides below or ask a question and we'll answer promptly!
Contact Our Team
SEE WHAT OTHERS ARE SAYING
A professional and hard working realtor
I listed my house with Sunyoung after the previous agent could not sell it for 6 months. Sunyoung brought in a professional designer and a staging company. After her recommended painting and staging, the house looked wonderful. She also used a professional photographer who took nice photos and a video. The house went though a dramatic transformation with little cost. Sunyoung held open houses for a couple of months until the house was sold. She really worked hard and always put my interest first. I deeply respect her professional work attitude. She is a wholesome and trustworthy realtor that I will always remember.
An expert of San Marino / Arcadia
I am buying my first home in the US from Shanghai, China and I need a realtor who I can really trust. Every time we went to see houses in San Marino/Arcadia, Sunyoung always provides me with the area real estate market trends, neighborhood information and the local school information. This information was very valuable when we negotiate the price and other terms. Her professional knowledge and hard-working attitude is her best characteristic. Although I have not bought my house yet, I will soon and she will definitely be my realtor when I buy it.
我是来自上海的买家。因为我对美国的社区和购房过程不熟悉,我真的需要一位可以信赖的房地产信息。任小姐对圣马力诺和亚凯迪亚等华人社区非常熟悉,而且热情周到。每次看房子之前,她都会给我们介绍社区和学校、该房屋的历史,附近卖的类似房屋的价格、房价的趋势等。这些信息确实帮助了我们解决购买房屋中的种种困难和障碍。她的专业知识和敬业精神让我敬佩。我现在还没有购买我自己的房子,但是当我买房子的时候,任小姐一定会是我的房地产经纪人。
A realtor with a caring heart
When I helped my parents to purchase the house in Pasadena, Sunyoung was my realtor. The house was perfect for my parents. However, there was another buyer who made a very competitive offer on the house at the same time. My parents and I were very stressed out and couldn't sleep. Sunyoung went to meet the seller in person and persuaded the seller to accept our offer. She has a very caring heart and I can't thank her enough. Now, she is my life-long friend and I feel very lucky to have her as my realtor.